Skip to main content
GETTING STARTED WITH MOBILE ENTRY TICKETS
Disney on Broadway now offers Mobile Entry Tickets! We've compiled some tips and tricks to help you and your group use this method.
If you still have questions, contact our team today at DTG.Group.Sales@disney.com or (800)-439-9000.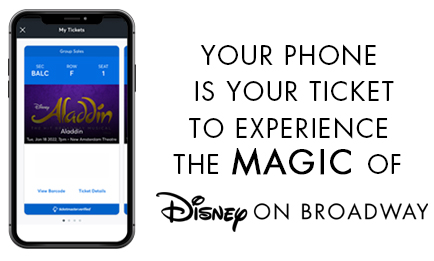 Mobile Entry Tickets are the easiest and safest way to access tickets for THE LION KING and ALADDIN on Broadway.
Top 5 reasons to select Mobile Entry Tickets:
Your mobile phone is your ticket
Our team can help you faster when plans change
No more tickets getting lost in the mail or misplacing them
Saves your group money on ticket shipping fees
Easily transfer tickets to your guests via email (May not be available for all performances)
Note that you will only be able to access your tickets on your mobile device. They will not be available to print for entry. Because of this, you will need a smartphone to utilize Digital Tickets.
ALADDIN – All Performances
THE LION KING – Performances Through 02/05/2024
Access your tickets in 5 easy steps!
After you pay for your group tickets, they will be delivered via email within a few days. Look out for the subject line "You Got the Tickets!"
When you receive the email containing your tickets, tap "View and Use Mobile Tickets". This will open the tickets on your mobile device and allow you to manage them further.
In order to manage and transfer your tickets, tap "Manage" and follow instructions to log in to your Ticketmaster Account.
Now that you're logged in, select "Claim Tickets" to link them to your Ticketmaster Account!
Congratulations! You can now view your tickets and begin to transfer them to your group members. We recommend switching to your desktop to perform any transfers (although, this can be done on mobile).
A FEW NOTES:
You can only receive 50 tickets per email. If your order includes more than 50 tickets, you will receive multiple emails.
Tickets MUST be initially claimed on a mobile device. You cannot initially view and transfer your tickets on a desktop browser.
If you don't initially transfer your tickets to a Ticketmaster account, they will live solely in the original email.
---
THE LION KING (Performances Starting 02/06/2024)
THE LION KING on Broadway group tickets will be issued from Broadway Direct, the official ticketing partner for performances starting 02/06/2024.
Once your order is paid, your tickets will be emailed to you within a few days.
Physical tickets are available as an alternative.
At this time digital group tickets are not transferable, and only the group leader will have access to them.
If selecting digital tickets as an option, the group should arrive together.
ALADDIN – All Performances
THE LION KING – Performances Through 02/05/2024
Once your tickets have been claimed and added to your Ticketmaster account, you are able to transfer them!
Open your Ticketmaster App or visit www.Ticketmaster.com.
Navigate to My Account, and select the show/order you'd like to manage.
If your order is more than 50 tickets, you will have received multiple "You Got the Tickets" emails. Each set of claimed tickets will be listed separately with your "My Events" (or "My Tickets" on desktop) section.
Tap "Transfer Tickets". This will allow you to select specific tickets to transfer.
Once you've selected the tickets you wish to transfer, you will be required to enter the First Name, Last Name, and Email or Phone Number of the recipient.
Now, tap "Transfer" to transfer your tickets!
Can I get tickets back after transferring them?
You may cancel a transfer up until the recipient accepts the tickets. After the recipient has accepted the tickets, you must have them transfer the tickets back to you.
NOTE: If the recipient transfers the tickets back to you, this will create an additional order in your "My Events" section. The tickets will not merge with your original order. Don't worry, you can still transfer them to a new recipient!
---
THE LION KING (Performances Starting 02/06/2024)
At this time tickets are not transferable to other members of your group, we hope to have an update regarding this in 2024. Should you not be arriving together, we encourage you to choose physical tickets.
We've provided some recommendations to ensure a magical Mobile Entry experience!
Add mobile tickets to your phone's digital wallet to ensure your tickets are active, even if you run into connectivity issues at the performance.
When managing groups larger than 10 tickets, we suggest dividing the tickets amongst your group leaders/chaperones (For example – a group of 30 students with 3 chaperones should designate 10 student tickets per chaperone. Don't forget the chaperone's ticket as well!)
Tour and Travel operators managing multiple groups across different dates may want to dedicate one Ticketmaster account to manage all of their tickets.
We recommend waiting to transfer your tickets until a few days before your show. Why? Plans change and this will minimize the amount of transfers and make any exchanges easier, if needed.
If managing a larger group, keep a list of all of your group members and their seat assignments to ensure a successful transfer of tickets prior to the performance.