Skip to main content
GETTING STARTED WITH MOBILE ENTRY TICKETS
Disney on Broadway now offers Mobile Entry Tickets! We've compiled some tips and tricks to help you and your group use this method.
If you still have questions, contact our team today at DTG.Group.Sales@disney.com or (800)-439-9000.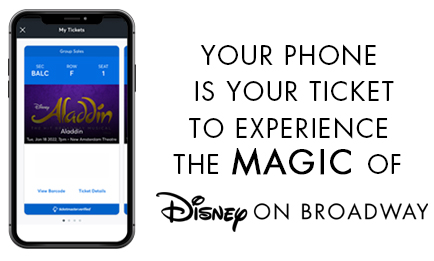 Mobile Entry Tickets are the easiest and safest way to access tickets for THE LION KING and ALADDIN on Broadway.
Top 5 reasons to select Mobile Entry Tickets:
Your mobile phone is your ticket
Easily transfer tickets to your guests via email
Our team can help you faster when plans change
No more tickets getting lost in the mail or misplacing them
Saves your group money on ticket shipping fees
Note that you will only be able to access your tickets on your mobile device. They will not be available to print for entry. Because of this, you will need a smartphone to utilize Digital Tickets.